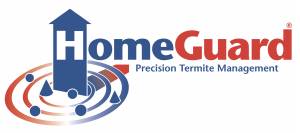 Conquer Termites is a fully accredited installer of the FMC Homeguard® Termite Management Systems.
If you are a builder or just a home builder requiring an appropriate termite prevention treatment for certification, then this is a very cost effective and efficient system. Homeguard products cater for all situations and building requirements.
Under the Australian Standard AS3660.1 Termite Management Part 1: New Building Work HomeGuard is classified as a chemical termite barrier in a non-soil matrix combining the attributes of both chemical and physical Termite management Systems while meeting the 'Performance Appraisal' requirements of the Building Code of Australia.
Features unique to Homeguard

HomeGuard is the first and only chemical barrier in a non-soil matrix product ever registered by the Australian Pesticides and Veterinary Medicines Authority (APVMA).
HomeGuard is the first and only single sheet termite moisture barrier containing an Australian registered termiticide in a polymer matrix.
HomeGuard is a single sheet with the active ingredient evenly distributed throughout the matrix.
HomeGuard acts as a waterproof membrane, a DPC and an effective Termite Management tool all in one.
Link: FMC Homeguard information
Accredited Eflex Operator and provider of the $1,000,000 Warranty
Conquer Termites is fully licensed and accredited with the manufacture, FMC, to provide solutions to your termite problems using the Biflex products. This is in tune with our promise to you to only use the best quality products, (not generic rip-offs), that have been specifically designed for Australian conditions.
How FMC products are suited for your home..
Now FMC Australasia proudly sets new benchmarks with the Eflex range of responsible subterranean termite management products and the ultimate subterranean termite management commitment to the Australian consumer – the FMC One Million Dollar Manufacturer's Warranty against subterranean termite damage.
The warranty is conditional on an annual inspection of the property as detailed in the Australian Standard 4349.3, to be conducted by Conquer Termites, as an Accredited Eflex Operator.
Combined with enhanced support and training to the Australian Professional Pest Manager with our Eflex Accredited Operator programs, our responsibilities don't end there.  Please read the brochure for more information or contact us directly.
"You can trust FMC and our Accredited Operators to be here for you today and tomorrow."