How is a termite chemical treatment installed?
What is the right chemical? …….What is the right treatment?
If 
you

want to understand what is involved, watch this video……

Chemicals don't fail, it's the application of them that fail!

No treatment can absolutely guarantee that termites will not attack your home. But if the chemical treatment is installed correctly and you ensure all the recommendations given to you by our professional inspector are completed, then your home is very unlikely to be infested. The subject of which termite treatment is "the best" is the one area which usually causes the most confusion for consumers, largely as a result of conflicting opinions, recommendations and prices they may receive from different companies.

Conquer Termites believe that if you are given the right information and options, and it is explained in a language that you'll understand, you'll be confident that you have made the right decision. We will customise your Treatment Program so that it is specifically designed to suit your needs, and protect your most valuable investment … Your home.
---
What chemical we recommend to use?
Find out how to estimate your treatment on our
Information about our Termite Inspection
---
What are the warranties and insurance?
Timbersecure®Termite insurance $100,000 cover
As a fully licensed and accrediated company, we can provide you with genuine insurance cover, valued up to $100,000, for any repairs in the unlikely chance the termites find a way through our chemical treatment. Sadly in our industry there are no absolutes and there is always the risk of re-infestation. For the ultimate "peace of mind", consider this very reasonable insurance cover for one of your most important assets.
For more information, click here
Termidor® 2 Million Dollar Warranty
Conquer Termites has been selected by the manufacture of Termidor, BASF, to be accredited to offer homeowners the 2 Million Assurance Warranty – at no cost.
When you termite proof your home with Australia's leading termiticide, Termidor, not only will you be reassured your assets is protected for 8 years but now you have the option to apply for a legitimate warranty that will give you a new level of confidence, security and peace of mind. The Assurance Warranty covers structural damage up to 2 million dollars if the chemical Termidor is proven to have failed. They know if it is applied correctly it just doesn't fail. It's just another example of the manufacture of Termidor backing their product against inferior generic choices.
For more information, click here
Conquer Termites' Warranty & Free Call-out Service
Once you have your treatment done, we offer an initial 12 month free call out service – that is, if you have any concerns regarding termites in that period, call us and we'll come out for free to check. If we discover new termite activity, we re-treat and re-inspect, free of charge until the problem is solved.
This free service is renewable on your annual warranty inspection. We regard the protection of your house as a team effort – you need to know you can trust the company that installs your treatment to be there in the future for you.
For more information, click here
---
Additional Treatment Options
Homeguard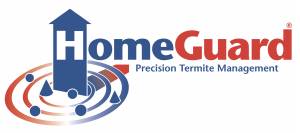 Conquer Termites is a fully accredited installer of the FMC Homeguard® Termite Management Systems.
If you are a builder or just a home builder requiring an appropriate termite prevention treatment for certification, then this is a very cost effective and efficient system. Homeguard products cater for all situations and building requirements.
Under the Australian Standard AS3660.1 Termite Management Part 1: New Building Work HomeGuard is classified as a chemical termite barrier in a non-soil matrix combining the attributes of both chemical and physical Termite management Systems while meeting the 'Performance Appraisal' requirements of the Building Code of Australia.
Features unique to Homeguard
HomeGuard is the first and only chemical barrier in a non-soil matrix product ever registered by the Australian Pesticides and Veterinary Medicines Authority (APVMA).
HomeGuard is the first and only single sheet termite moisture barrier containing an Australian registered termiticide in a polymer matrix.
HomeGuard is a single sheet with the active ingredient evenly distributed throughout the matrix.
HomeGuard acts as a waterproof membrane, a DPC and an effective Termite Management tool all in one.
Link: HomeGuard for Builders brochure
 For more information check this page: Homeguard
Reticulation System – ALTIS – Certified Installers
As certified installers of the patented Altis reticulation system, Conquer Termite can offer you the option of having a system installed around your home that can be replenished at any time. When it is time to re-new the chemical we only have to connect our hose to the feeder pot and pump new chemical around the house.
Contact us if there are any questions about this affordable and reliable system.Recommendations on "After-Care" of your treatment
Cover the treated trench with pavers or a layer of stones. This will help to stop pets disturbing the treatments and prevent deterioration from rain and dampness. The 300mm x300mm pavers are ideal, or about 2cm thick layer of stones, or pebbles, (without the black plastic) is recommended. Any bedding sand or new soil needs to be treated.
Ensure there are no leaks near the treated zone. Regularly check that taps aren't leaking and that storm water pipe freely drains away from the structure. Don't introduce any plants or trees near the treated zone. If you want plants for privacy or shade, ensure that they are potted in suitable pots that will contain the roots above the ground.
Establish a "walk around" zone were you can readily walk around your home's perimeter allowing you to check all the weep holes and slab edge. Cut plants back so that you can see along the perimeter.
Due to the Altis unique perforated plastic membrane and special emitters, the chemical is guaranteed to flow out evenly ensuring that there is continuous chemical treatment at the base of your home. No need to dig up the garden or drill new holes again.