How much does a termite barrier – treatment cost?
This page provides information that will enable you to work out a "Ball-Park" figure for the cost of chemical treatment of your home. It also outlines the cost per year break down which you should regard as annual insurance against termites.
There are many considerations involved when pricing a chemical treatment. But, if you want a simple guide, get your measuring tape and do your own calculations using our Treatment Calculation Table below.
Calculation Steps
1. Measure
Use measuring tape or wheel to measure the total lineal meters around the external perimeter of your home and outbuildings. The measurement should be taken not more than 150mm from the wall. Also, count the number of posts that are attached to the structure/s.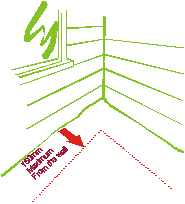 2. Choice of Chemical
Termidor – Transfer poison, designed to kill termites by transferring back to the nest. Manufacture's recommendation of 8 years of life.
Altriset – Non-repellent, the safest chemical available in Australia.  Manufacture's recommendation of 5 years of life.
Biflex – Repellent poison, designed to form a treated zone to prevent termites from entering your home. Manufacture's recommendation of 10 years of life.
3. Treatment Estimator
Enter the perimeter length and # of posts to calculate an approximate cost for treatment of your property using one of the following Chemicals :
The calculations above should be regarded as only indicative of a treatment in normal conditions.
HOW WE INSTALL A TREATMENT, PLEASE WATCH OUR VIDEO….